First, I must tell you how we ended up down on South Congress. Our friend's dad
lives at
the State School for the Deaf and is their facilities manager. Never have I watched a football game, grilled and drank adult beverages at a middle/high school campus for special needs kids. Besides the set up in the yard being really cool (covered deck with candle chandelier and hanging TV), it was super cool to hear about how Roy grew up on site, learning about deafness and learning sign language. Super cool.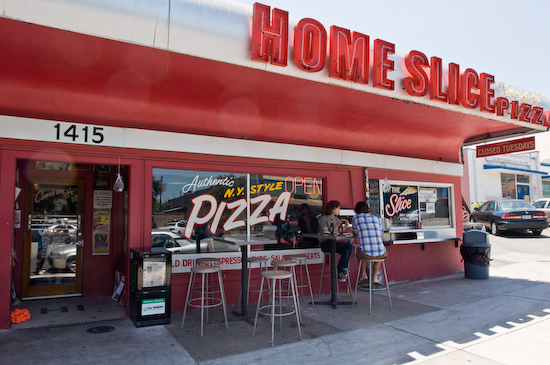 From Orthogonalthought.com
Anyways, post football we went across the street to
Homeslice Pizza on South Congress
. I've heard people rave about this place. Best pizza in Austin they say. Winner of many "Best of" Awards by
The Austin Chronicle.
Needless to say I had high expectations.
The atmosphere was great. Very Austin, funky, unique, laid back. Outside picnic tables and twinkly lights along the patio. But the pizza...eh. It was good, sure. But I'm not calling you saying "OMG you have to come visit so we can go to this pizza place!" Ross, Jon and Erin loved loved loved it. So I'm thinking my lukewarm reception can be credited to two things
It is thin crust pizza. I like thicker crust significantly more.
We had pepperoni and mushroom which I'm lukewarm about. I prefer a supreme pizza with sausage, peppers, mushroom, olives, maybe even artichoke. It's all about the toppings.
But if you are a thin crust lover then... OMG you have to come visit so we can go to this pizza place!
On another food related note, today I am baking my first loaves of pumpkin bread for the season. Woohoo!
P.S., 8:24 p.m.
The pumpkin bread is as amazing as I remembered!